The Faraway Tree Childcare Centre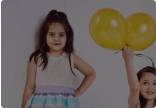 About The Faraway Tree Childcare Centre
We are a licensed quality childcare service in the heart of Subang Jaya. We strive to provide your child with the highest quality of care so each child reaches their potential in various areas of growth and development. We provide a warm, professional and safe environment with trained staff.
At The Faraway Tree, we've created a space to nurture and invest in your children's daily care and development. We currently have one centre in operation (USJ)- it reflects a comforting and tranquil space where as parents, we would be happy to bring our own children too!
Providing an engaging, stimulating and carefree environment where kids can be kids through play is our founders' utmost priority. As mothers themselves they see the value in having a childcare centre that promotes the core values of creativity & curiosity, exploration & learning which leads to growth & confidence. With a personal understanding of what is needed, and a passion for children, Sandhya and Dhanya have decided to pool their professional expertise together and create The Faraway Tree Childcare Centre.
Sandhya has a background in Psychology and ventured into the corporate world of Human Resources for over 12 years. Being able to work and engage with children has always been a passion of hers and thus opening a childcare centre with a strong ethos and a solid foundation is a dream come true!
Dr. Dhanya is an experienced Clinical Psychologist who works with children and adolescents, and has a strong background in child development. She works alongside a multidisciplinary team which provides comprehensive services for children with developmental, behavioural, social and emotional concerns. She is also a lecturer at a renowned tertiary institution. Dr. Dhanya has also been featured on print media and radio, also having written articles for local newspapers and magazines. Her professional expertise and knowledge coupled with her parental experience has been poured into creating a space that is stimulating, loving and comfortable for both parents and children.
They look forward to welcoming you and your little ones to the Faraway Tree!
Philosophy
At The Faraway Tree, we believe in providing quality childcare services which will allow all our children to reach their fullest potential. Our play-based curriculum is formulated to engage kids through curiosity, creativity and exploration.
Building and maintaining a positive learning and play environment is something we strive to do consistently as we believe children respond better when they are surrounded in an encouraging, caring, and rewarding environment.
Play is an important and pivotal feature in our philosophy. We truly believe purposeful play is a developmentally significant factor in order to enhance a child's physical, emotional, intellectual and social development. All children grow and peak at different stages and it is our commitment to engage with kids and cater to their unique needs so we are able to enhance and nurture all of their milestones. During a typical day there will be structured and unstructured periods, enabling children to respond to learning at their own pace.
Our philosophy truly guides the way we work and approach to all matters regarding early child care.
Programs
Our curriculum stimulates thinking, reasoning, decision-making as well as problem-solving abilities. We also actively engage children and support differences in learning styles, maturity and interests. Our curriculum will provide consistency and a predictable routine for your little ones, promotes multisensory experiences, and invites exploration and discovery.
Practices that take into account the developmental readiness of each child can boost self-confidence and independent thinking. This type of environment promotes skills and discipline, inspires creativity, encourages flexibility, and emotional expression. Children learn best through interacting with their environment, and our activities are designed with that in mind. It'll help us prepare your children for a bright future, and have fun along the way!
Rest assured that your child is participating in a curriculum program that is aligned with the highest quality standards in early childhood education.
Playgroup (2 years 7 months - 4 years 11 months)
---
0

Reviews for The Faraway Tree Childcare Centre
---
Contact provider
How to request for service?
Choose your preferred provider
Answer a few questions
Submit the request
Send request